The Galaxy A Series is available with a high price tag since we must pay for the Samsung Branding. Samsung recently released the Galaxy A54 5G and Galaxy A34 5G, but today we will review the bigger Galaxy A54 5G.
The Galaxy A54 5G will be available for purchase on Amazon IN on March 28, 2023, at noon, with a starting price of Rs 38,999 and a color selection of Lime, Graphite, Violet, and White.
Samsung Galaxy A54 5G Review –
Yes, The Galaxy A54 5G is a worthwhile purchase, but not everyone will enjoy using it. The phone has all the desirable characteristics, including an IP67 rating, four years of OS upgrades, a fantastic AMOLED display, and even passable cameras. Although the phone's processor is below average, it is not designed for heavy use, and Samsung is charging significantly more for the gadget than is reasonable.
Certainly, the Galaxy A54 5G is not the ideal choice if you're looking for a value-for-money gadget under Rs 40,000.
PROS and CONS of Samsung Galaxy A54
PROS –
Super Bright sAMOLED Display
IP67 Rating
4 Years of OS Update
Clean and Loud Stereo Speakers
11 5G Bands
Clear 1 day Battery Life
Feature-Rich OneUI 5.1
CONS –
Plastic Frames
No 3.5mm Audio Jack
Missing FM Radio
Only 25W Charging Support
No Charger in the Box
Videography Needs a Bit of Improvement
Display
The 6.40-inch, 120Hz AMOLED display on the Samsung Galaxy A54 5G has a maximum brightness of 1000 nits and a resolution of 1080 x 2340 pixels. The phone also supports wide vine L1 for FHD+ streaming and includes an in-display fingerprint sensor.
By the way, since the phone uses an optical in-display fingerprint sensor, moist fingers will prevent it from working.
The smartphone's 1000 nits brightness is sufficient for outdoor use; you won't experience any issues making or receiving calls or reading texts, and everything on the screen will be visible in direct sunlight.

Samsung has Corning Gorilla Glass 5 on the front and the back of the device for protection, but the material used for the frames don't feel or look good from any angle.
Also Know – Pubg Mobile 1.4.0 APK For Android 2023
Performance –
The Exynos 1380 (5 nm) SoC powers the Galaxy A54 5G, which runs OneUI 5.1 on top of Android 13. Samsung has pledged to provide OS updates for 4 years and security updates for 5 years.

Recently, Samsung has been releasing OS updates more quickly than any other Android manufacturer besides Google. Let's hope Samsung takes the same course in the upcoming years; otherwise, what will become of the promise of four years of OS updates?
The feature-rich Android skin OneUI 5.1 has undergone significant improvement. In contrast to their Galaxy M Series devices, Samsung has also offered complete support for OneUI.
By the way, Exynos 1380 and Snapdragon 778G are comparable in terms of performance.
The Galaxy A54 5G is not designed for gaming at all or even for heavy usage. Titles like COD Mobile, PUBG New State, or even BGMI Mobile will operate at Medium Graphics.
Hence, if you're the type of person who enjoys using social media, taking photographs and videos, and playing games, you should avoid using the Galaxy A54 5G because it can't handle all of these duties.
The Galaxy A54 5G is suitable for all purposes besides gaming.
Also included in Samsung's addition are the N1, N3, N5, N7, N8, N28, N66, N40, N41, N77, and N78 5G bands. As a result, if 5G rolls out in your city, you will be able to benefit from that connectivity without any issues.
Cameras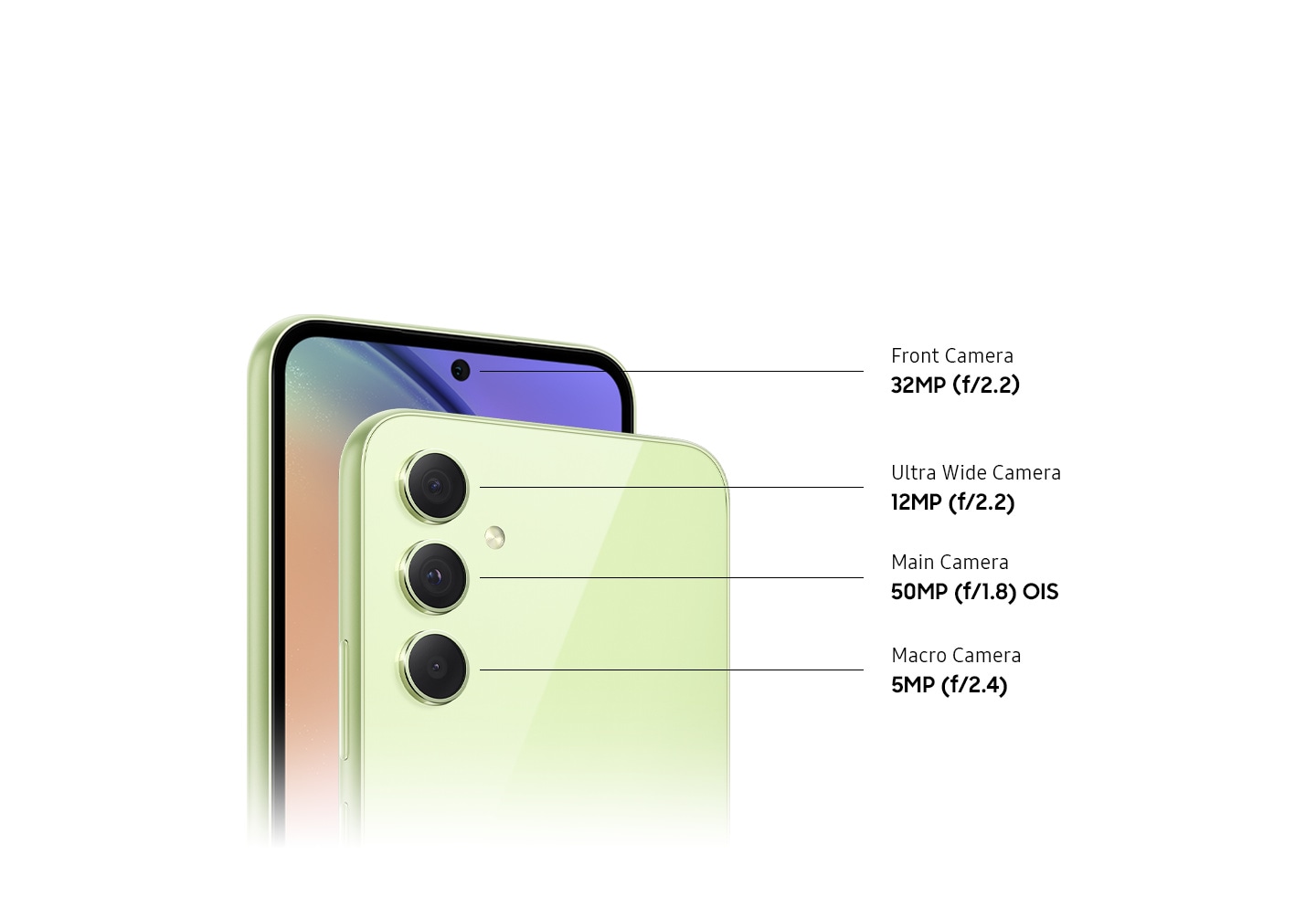 Although I hate to break it to you, the cameras on the Galaxy A54 5G are nice but not as good as the device's asking price of Rs 39k.
Starting at the beginning
The front-facing 32MP selfie camera on the Galaxy A54 5G has a 50MP primary sensor, a 12MP ultra-wide sensor, and a 5MP macro sensor.
The front camera can record videos in 4K@30fps and 1080p@30/60fps, while the rear cameras can record in both resolutions.
Keep in mind that, unlike other mid-range smartphones, the 50MP primary sensor has OIS that functions in videos. OIS only functions with 1080p@30/60fps.
When there is sufficient light surrounding the primary sensor, the video quality is excellent, however, the sensor suffers greatly in low-light conditions.
Normally, I wouldn't have voiced a complaint, but considering that this smartphone costs Rs 39,999, the low-light filming issue shouldn't have ever occurred.
This is not a premium experience in any way because, for instance, in low light, the movies will have noise and the sensor will soften the objects.
Audio
No, there is a 3.5 mm audio connector, however, there is a stereo speaker that supports Dolby Atmos. Both of these speakers produce an excellent sound that is loud and even clear.
By the way, the bottom speaker produces 60% of the loudness, with the top speaker producing the remaining 40%.
You can also utilize Type-C wired earphones if you'd like.
The "call focused" feature, which Samsung has also implemented, eliminates background noise when you're on a call. This feature is quite useful, especially when you're in a public setting.
Once again, there are no problems at all with the call quality.
Battery Life
Samsung claims that the Galaxy A54 5G would operate normally for two full days, however, that is not true at all.
If you use your device frequently, the battery should last for around a day, but if you don't, you'll need to use the 25W charger, which will take a long time to charge your device from 0% to 100% the next day.
By the way, the Galaxy A54 5G features a 5,000mAh battery that supports 25W charging. Samsung, however, did not include a charger in the box, so you will need to either purchase a new 25W charger or use one that is already in your possession.
Conclusion
The Galaxy A54 5G is not a value-for-money device, but it is a good Samsung smartphone. Samsung is charging a bit more for its brand, so if you don't mind spending an extra Rs 10,000 for the Samsung Logo, you should pass on the Galaxy A54 5G.
What is the screen size of Samsung Galaxy A54?
The Samsung Galaxy A54 comes with a 6.5-inch display.
What is the resolution of Samsung Galaxy A54?
The Samsung Galaxy A54 has a display resolution of 1080 x 2400 pixels.
What is the battery capacity of Samsung Galaxy A54?
The Samsung Galaxy A54 comes with a 5000mAh battery.
Does the Samsung Galaxy A54 support 5G?
No, the Samsung Galaxy A54 does not support 5G connectivity.
What is the processor used in Samsung Galaxy A54?
The Samsung Galaxy A54 is powered by a Qualcomm Snapdragon 720G processor.
How much RAM does Samsung Galaxy A54 have?
The Samsung Galaxy A54 comes with either 4GB or 6GB of RAM, depending on the variant.
Does the Samsung Galaxy A54 have a microSD card slot?
Yes, the Samsung Galaxy A54 has a microSD card slot that can support up to 1TB of additional storage.
What is the operating system of Samsung Galaxy A54?
The Samsung Galaxy A54 runs on Android 11 with Samsung's One UI 3.1 on top.
Is Samsung Galaxy A54 water-resistant?
No, the Samsung Galaxy A54 is not water-resistant.
Does Samsung Galaxy A54 support fast charging?
Yes, the Samsung Galaxy A54 supports 25W fast charging.